To celebrate World Fiddle Day, the Irish Traditional Music Archive is sharing a video of renowned fiddle player, James Kelly finding artistic inspiration from Raidió Éireann recordings of his father, the legendary fiddle player John Kelly Senior (1912-89).
Raised in Dublin, James is a former presenter of RTÉ's Pure Drop but is now based in Miami. While on a brief visit home to launch a new website dedicated to his father, James dropped into ITMA in 73 Merrion Square to search the largest catalogue of its kind in the world.

ITMA is particularly keen to connect artists with archival material to inspire new art, and it was a great pleasure to introduce James to a recording he had never heard before, a Raidió Éireann acetate disc made on 23 February 1953, featuring his father playing two West Clare jigs on solo unaccompanied fiddle.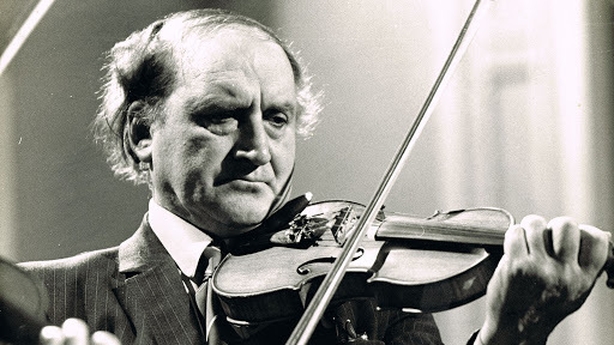 This unique recording is among a collection of some 4000 acetate discs preserved by the RTÉ Archives dating from 1937 to 1971. Used for both recording and broadcasting by Raidió Éireann, the discs contain a wide variety of content from traditional to classical music, interviews, radio talks, reports and more.
The audio signal was cut into a groove of a lacquer-coated blank disc, usually aluminum base, to make these recordings. The softness of the lacquer used however did not stand up to repeated playing and they are highly fragile. Thankfully, a project to digitise these valuable recordings was recently completed by the RTÉ Archives with the support of the BAI Archive funding scheme, and a number of rare gems were brought to life again.
Listen: Liam O'Connor talks to the Rolling Wave podcast
Furthermore a catalogue of the complete collection will be created with the aim of publishing the recordings on RTÉ Archives later this year. Working in partnership with RTÉ Archives, the Irish Traditional Music Archive is documenting the traditional music material from the collection.
ITMA is delighted to be offered recordings from this invaluable treasure trove and looks forward to connecting artists further with this archival material and inspiring new art as the catalogue grows.
For more information on the work of the ITMA, go here. Celebrations of World Fiddle Day are taking place at Cairdeas na bhFidiléirí in Donegal and World Fiddle Day Scartaglen (Capital of Sliabh Luachra!) are hosting online performances celebrating two of the most distinctive and celebrated fiddle traditions in the world.
The Rolling Wave on RTÉ Radio 1 this Sunday night (May 17th) at 9pm will join in the celebrations with archive recordings from a range of fiddle players including Bobby Casey, Junior Crehan and Tommie Potts - subscribe to the Rolling Wave podcast here.