Monday 11 May 2020
The Donegal Song Tradition: Delving Deeper
In October 2019, Catriona Gribben from Gaoth Dobhair, Co. Donegal, joined ITMA as an Intern from Queen's University Belfast (QUB). Her ambition to learn more about field recording and archiving took a much more local twist than she first anticipated.
My name is Catriona Gribben, I am 21 years old and come from Gaoth Dobhair in County Donegal. As a final year BA Hons Music & Audio Production student at Queen's University Belfast, I had the opportunity to undertake a part-time placement as one of my modules.
I was looking for somewhere I could use my skills in both music and audio, as well as my other passion, the Irish language. A fellow Donegal musician suggested ITMA and I knew it would be the perfect match. Not only would it offer me the ideal opportunity to be immersed in Irish music and song, but the fact there is a Recording Studio in the building meant that I would be able to put some of the audio production skills I had been learning into action. Keen to make contact with ITMA, I sent my CV and was thrilled to be invited to Dublin to discuss projects and areas of work that would be suitable for me as an intern. This visit was invaluable as it allowed both parties to prepare a structure for the internship which would be mutually beneficial. I was motivated to make the most of my experience at the ITMA but at the same time offer something concrete and worthwhile in return.
Since a very young age, I have always been passionate about Irish traditional music and its preservation. I was delighted and inspired to be in 73 Merrion Square which is such a treasure trove of Irish heritage. My weekly visits reminded me of my rural Donegal roots. I have always felt privileged to have been brought up in a place steeped in Irish culture, music and heritage where the Irish language is so vibrant. I feel particularly grateful to have been raised in Gaoth Dobhair because, although neither of my parents are originally from there, it has hugely influenced the person I am today. I know that my upbringing there gave me opportunities and gifts that I would not have gained elsewhere, like my fluency in the Irish language and my love of traditional music.
As a young child, I attended singing and tin whistle lessons in An Chrannóg and went to the summer camps all through the medium of Gaeilge. Although many people initially got involved because their school friends were going, I was enamored from the start and knew it was where I wanted to be.
The classes were, and remain, very popular and most young people locally can say that they went along to these lessons at some point in their childhood. In retrospect, we just accepted it as part of our childhood without thinking about what we were singing or playing, how rare the airs we were singing were, or how important it was that we were learning them. Most of the time the songs were learned phonetically by ear, and it was only later as we grew up that we realised what the lyrics were actually about.
Learning other instruments came naturally to those of us who persevered with the singing and tin whistle lessons. I tried out most of the instruments for a term or two and decided somewhere along the way that I would focus on the piano accordion. In 2008, after long hours of practise and years of being told 'na bí ag labhairt i mBéarla!', a group of young musicians, under the direction of Caitlín Joe Jack, emerged called An Crann Óg. Ever since, we have been collaborating, performing and touring together across Ireland, Scotland, Germany and even the Catskills in New York state. Our ongoing role as a group is to promote and encourage the Irish singing tradition as well as to entertain.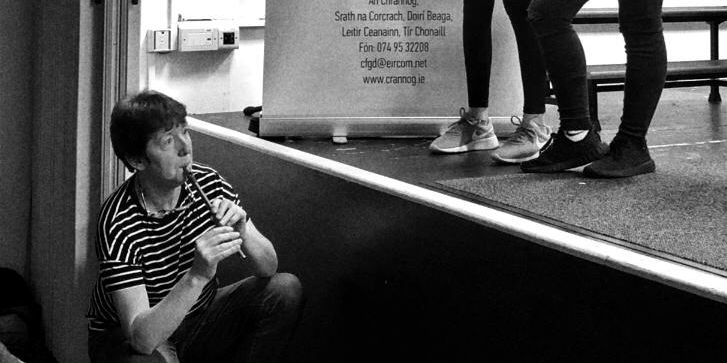 ---
The Gráinne Yeats Collection at ITMA
One of the first projects I worked on in the Archive was the Gráinne Yeats Collection. Gráinne Yeats (1925-2013) was a harpist, singer and researcher from Dublin. The material in this collection was donated to ITMA by the Yeats Family.
My first task was to sort through and broadly sort the published books and journals in the collection into English language, Irish language/other Celtic languages. After this, I began checking the ITMA online catalogue to see if any of these titles were already in ITMA. I created metadata for the new material and isolated the copies.
---
Field Recording Experience at ITMA
I was also given the opportunity to do some filming and improve my Adobe Premiere Pro film editing skills. Brian Doyle and Alan Woods invited me to join them on a couple of ITMA field recording trips. The first outing was in October 2019 to the Glenties Fiddle Weekend. This was a brilliant night for Donegal fiddle music and I was able to film performers like Roisin and Ella McGrory from Culdaff on the Inishowen Peninsula. I also assisted Alan Woods with the filming of two fantastic gigs in the Amharclann Ghaoth Dobhair over the course of the Scoil Gheimhridh festival in December 2019. These were performances by FIDIL and Julie Fowlis.
---
The Brían Ó Domhnaill Collection at ITMA
A few weeks after commencing my work placement in the Archive, a very interesting project arose which I knew would undoubtedly become very important to me.
This project was 'The Brían Ó Domhnaill Collection' - AKA 'Brían Danny Minnie Collection'.
Brían, hailing from Anagaire, Co. Donegal, has always been a huge part of the local music scene in west Donegal. Our group has played many sessions with him in his family restaurant, 'Danny Minnie's' and he is well known for his vast repertoire of songs. An important factor of song tradition is understanding the 'where and when' of a song. This is where Brían shows his knowledge, as he is teeming with information and stories about all his songs.
Brían has gathered this information together in four large folders, with 500 + songs arranged alphabetically by song title. As a pilot project he left the first folder with ITMA to investigate how the information he collated could be documented and made available to other users.

My work began on the Brían Ó Domhnaill Collection before Christmas 2019. I set up a spreadsheet and entered all the song titles that appear in the first song folder. I identified the photocopied book and CD sources he had been using by searching in the ITMA collection and then asking Brían about any obscure articles or books that were not found in ITMA. After this, I began the process of scanning all the original manuscripts and typescripts that were included in the folder.
Sometimes the song was the version from a specific singer at a session or often it was a song that he had jotted down from memory. Like many singers, he added additional verses to songs. There are many instances within this folder where Brían creates new versions of songs by manually cutting and pasting verses from different songs with similar themes. I later found out that he did this in order to make a song longer for competitions and even just for his own amusement.
When I began to go to events like Oireachtas na Gaeilge, I would watch people going up, singing short enough songs, they might only have had a couple of verses! They would be in competition with people from Connemara and people from other areas who would have eight or nine verses to their songs, and I would say to myself, well where did the verses go?
Other times, maybe you'd find a verse from somewhere else at home and you'd add it in. I remember there was a time at the Oireachtas when competitors sang six songs, they were advised to only sing four verses of each song. So, for example when Annie Eoghain Eamainn and them competed, they would only sing four verses. For this reason, songs became shorter and I would say, the verses were lost.
I wanted to put extra verses to songs to bulk them up. I found different versions of the same songs and picked out verses that I could add, but some verses that I found were in different songs with similar themes.
So, there's lots of interesting things going on in the extra verses.
Brían Ó Domhnaill interview 2020, translation by Catriona Gribben
---
Bádaí na Scadán
In the folder, there was one sleeve that particularly interested me. This was the collective research on the song Bádaí na Scadán.
There were snippets from articles and what seemed to be a thesis. Brían had even printed off old emails from 2004! Who was Nuala from IT? I was confused to say the least. Up to this point it had been a fairly standard procedure of scanning song lyrics/manuscript or typescript. I was intrigued by the material and felt I had to put the puzzle pieces together.
After some investigations on my part, I discovered he had gathered information from Irish Times journalist, the late Nuala O'Faolain; The Donegal Annual 2000, and Lillis Ó Laoire. I felt like a detective, but what I eventually found was a remarkable story and a heart wrenching tragedy.
The Inishfree Letters, were a series of letters found in an attic in America in 1981. They were addressed to a Miss Elizabeth Mc Connell, wife of Mr John Dugeon from Ranafast who emigrated to America in the 1820s. The letters were dated 1822-1828 so were over 150 years old when they were discovered.
In one of the letters, Alex Mc Connell writes to his sister, Elizabeth, bearing the awful news of a drowning that happened on New Year's Eve 1821 on Trágh Éanna. The song tells the story of five young boys who set out on a fishing trip. After a tremendous wave hits their boat, all but one of them is drowned. In the song, Billy Duffy, the boy who managed to stay above water cries out for help. All the bodies were recovered apart from one, a young boy called Fergal. There is a very poignant line that goes;
A Fheargail a dheartháir má tá tú I bhFlaitheas na Naomh, Iarr fortacht ar an Ard Rí do bhfáil in san chladagh seo thíos
Brother Fergal, if you are in heaven, please ask the High King to find you on this shore
This tragedy gave us the song, Bádaí na Scadán, a song from Ranafast which was first associated with Máire Ní Dhubhtaigh.
I then learned and recorded the song myself in the ITMA Studio.
After working with the songs in the folder for a few weeks, I had numerous questions that I wanted to ask Brían himself, so we arranged for him to come to ITMA for an interview at the end of January 2020.
In the wide-ranging interview, Brían gave great insights into song-collecting. He discusses how and why he started the project, and what the future of the project might look like. Ideally, all the songs would be recorded and made available online. With over 500 hundred songs in the four folders a solution would be to prioritise 'at-risk' songs. Brían is genuinely afraid that once his time on earth has passed, these unique old songs will also disappear forever.
When asked to sing a song at the end of my interview with him, Brían chose a few verses of 'Tom Glas Coilleadh' heard from an old woman from Mín Doire na Slua named Cití Mhary Thaidhg.
In my opinion, Brían Ó Domhnaill's Collection is of great historical and cultural significance and must be preserved and cherished. Although my time here in ITMA has come to an end, I would like to continue working on this project in the future. This pilot project has been invaluable in setting out the value of such a project but also the time and investment it will take.
---
My period of work experience at the ITMA has been of great benefit to me on both a professional and personal level. I have developed many new and important skills such as archiving, recording, interviewing and researching. Furthermore, I believe that as a person I have become more resourceful, driven and confident in my own work which will hopefully improve my employ-ability in the future.

I owe a debt of gratitude to the staff who work at the ITMA. They were always welcoming and ready to help me achieve my goals. I have felt inspired by their genuine interest and involvement in the work they do to preserve and archive our unique traditional music heritage.
I would like to thank Brían Ó Domhnaill for coming to ITMA and sharing his in-depth knowledge of the song collection.

I would also like to give a special thanks to Grace Toland, Brian Doyle, Alan Woods and ALL the staff at ITMA, for kindly welcoming me and always providing help in any way that they could, so that I could make the very most of my work placement.
I would like to thank the Director Liam O'Connor for facilitating this placement in the Archive.

---
This blog was researched and written by Catriona Gribben.
It was presented by Grace Toland.
May 2020